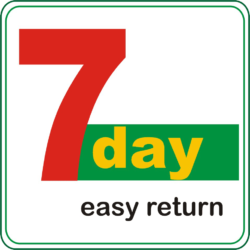 When you buy Jewellery at Mujtaba Jewellers, you get the convenience to easily return the undesired items within seven (7) working days for a full refund into your bank account. However, the following may be noted:
To initiate the process of return, a written request must be sent to mujtabahelpdesk@gmail.com along with details of purchase.
Returns will only be solicited to items or products returned as-is, without tampering, alteration, modification, refurbishing, style, appearance, weight or in any form whatsoever.
The process of refunding the payment will be initiated within 10 working days after the receipt of the product in its original form.
The original bill and accompanying certificates / documents issued at the time of purchase are required to process your refund successfully.
The refund request can be raised only by the actual customer.
Our refund policy is not applicable to gold coins.
Personalized Jewellery or jewellery made to order is not applicable for 100% refund. However, it is eligible for exchange as per our exchange policy.
In case of conflict, the policies of Mujtaba Jewellers will prevail.
Subject to Hyderabad (Telangana, India) Jurisdiction only.